Steamed Hay is a Christmas gift that keeps on giving for amateur British eventer and popular vlogger.
Christmas Eve 2020 holds a special place for horse owner and popular vlogger Lucy Robinson. Even more so for her 15-year-old Irish Sport Horse, Laraghlee. That's when the amateur eventing rider got word she'd won a Haygain HG 600 Hay Steamer through a contest on Charlotte Dujardin's Instagram account.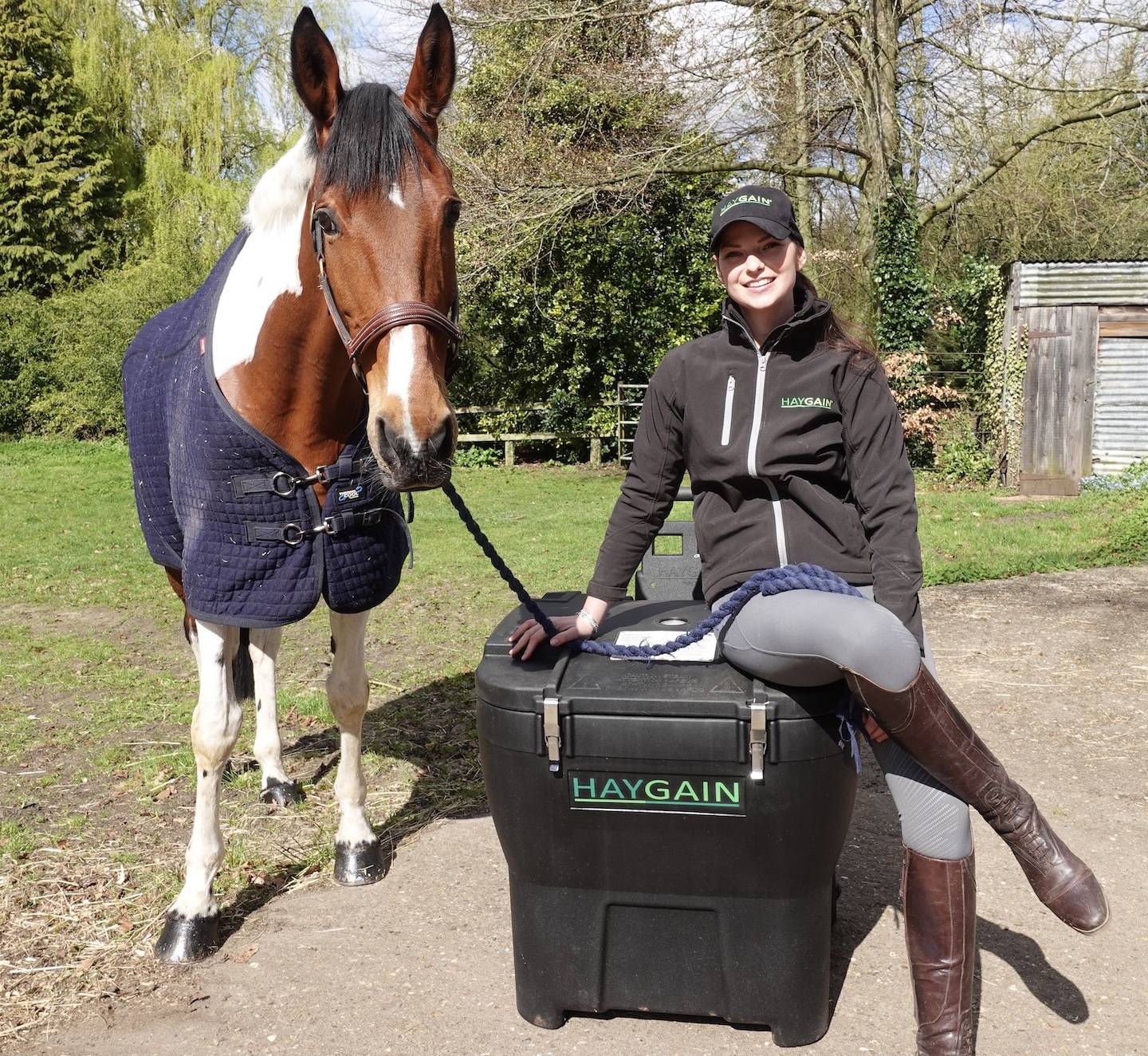 "No one can beat that as a Christmas present," says Lucy, who'd been struggling to find the right feed plan for her mare. Icing on the cake was getting a response back from her idol, Charlotte, after telling the Olympic, World Equestrian Games and World Cup dressage champion and Haygain fan how excited and grateful she was for the steamer.
Lucy had wanted to put Laraghlee on steamed hay for some time. Two years ago, she moved the mare to a new stable in East Anglia County's Norfolk. "A couple of weeks into the move, she started coughing and having a disgusting amount of mucus," recounts Lucy, who juggles her equestrian pursuits with a full-time job as website editor for The Lady magazine and creating content for her fun, informative and popular Footluce Eventing channels.
Laragh's coughing and runny nose happened the same time as an outbreak of equine flu. "I had the vet out and spent all this money having her scoped." Instead, the vet attributed the problem to hay dust allergy. Along with bedding, hay is a main source of respiratory irritants in the horse's environment. These include dust, mould, bacteria and other allergens.
Laraghlee's vet suggested steaming or soaking the mare's hay. A Haygain was not in the horse keeping budget at the time, so Lucy instead embarked on the "nightmare" of soaking hay. Coping with messy, heavy nets full of soaked hay did resolve the coughing and excess nasal discharge, but Lucy knew it was at the cost of leaching nutrients from Laraghlee's hay. It was already hard to keep weight on the mare, especially in the winter, and the soaked hay made it harder. "I felt like I was going around in circles," the horse owner shares.
Since getting her HG 600 Hay Steamer early this year, the weight maintenance issue has been "night and day," Lucy reports. Unlike soaking, high-temperature hay steaming retains hay's nutrients. Laraghlee has had "literally nothing" in the way of coughing and nasal discharge. Lucy attributes that to Haygain steaming eliminating up to 99% of the dust, mould, bacteria and other allergens found even in hay of good nutritional quality.
Since starting on steamed hay, Laraghlee and Lucy are preparing for, hopefully, a more normal show season this year. They compete at the BE90 and BE100 levels and the fitness that requires of the mare is possible again thanks to getting the nutrients needed from the hay portion of her diet.
Laraghlee is a keen cross-county horse and she and Lucy enjoy eventing as a fun pursuit. The mare's health and well-being are Lucy's highest priority, however, and that's why the Christmas Eve Haygain news became the gift that will keep giving for many years to come.