Hay Steaming Starter Pack Joins the Haygain Line-Up
New Starter Packs add ease and convenience to everyday hay steaming.

By Kim Miller | Equestrian Writer
High-temperature hay steaming is standard operating procedure in caring for horses of all breeds, ages and types across the vast spectrum of equestrian pursuits. Making this everyday task a little easier is what Haygain's new Starter Packs are all about.

Full of supplies and accessories priced at £120, this new offering brings extra convenience to the steaming process for all models, from the full-bale HG 2000 to the easily portable HG 600 and HG One editions. The Starter Pack includes everything you need to steam effectively for healthy, happy horses at home, away and in between.
Just as with your horses, proper maintenance is critical to the steamers' performance, so we start off with 10 packets of Haygain descaler. Specially formulated to remove limescale that can build up over time, the Haygain descaler makes steamer care a breeze. Ten packets will see you through at least six months – likely longer depending on steaming frequency and how "hard" the water is in your area.
Hit the road with clean, healthy hay and keep it that way with a Haygain Bale Bag. Rugged and breathable, this bag protects your horse's hay from whatever the environment may throw your way. The Pack's Non-Shrink Haynet is designed to withstand the high temperatures attained during the steaming process and to make the appetizing result easy to handle, hang and enjoy.
BLACK FRIDAY OFFER 26th November to 1st December - we are currently offering a FREE Starter Pack with every steamer purchase along with 5 % off! Check out of the offer by clicking on the image below.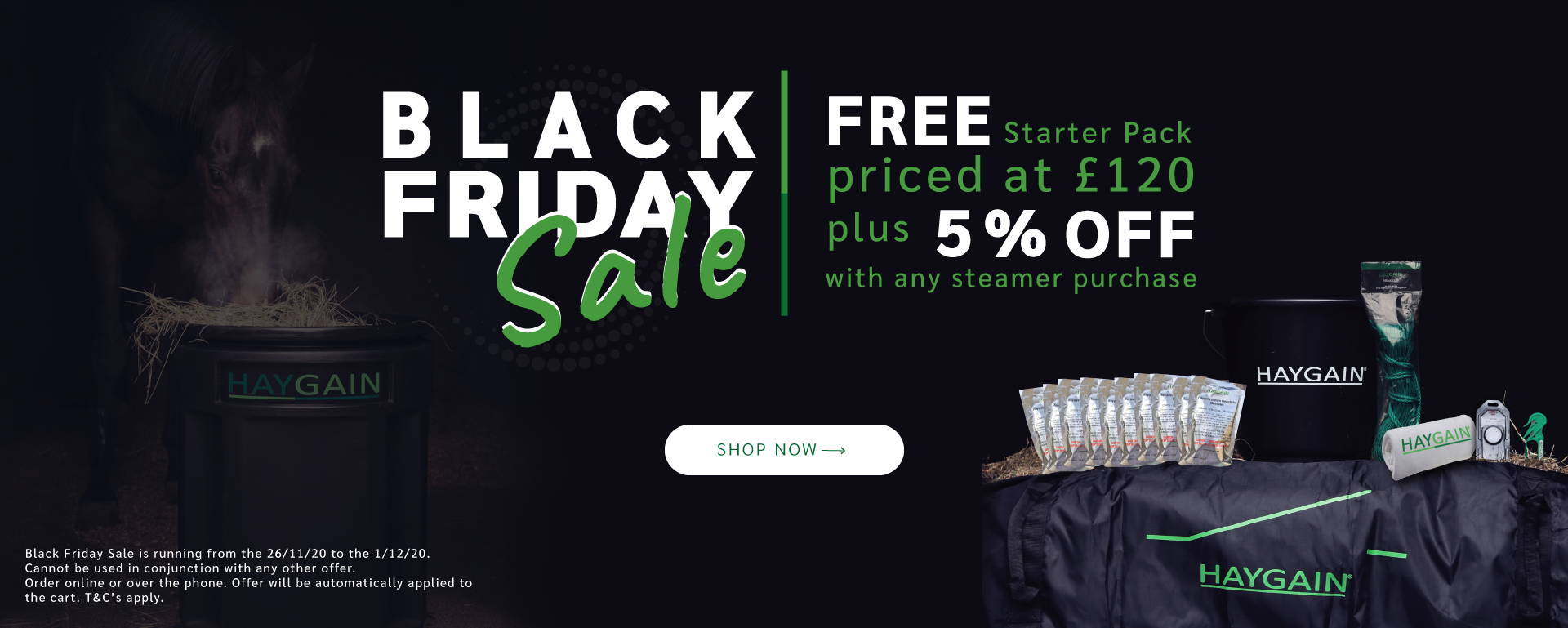 Get the Haygain Newsletter
Subscribe for the latest news, health advice, special offers and competitions. Fill out the form at the bottom of this page.