Holistic equine care considers the interconnectedness of everything involved in the horse's health. That explains why Kuehler Veterinary Services carefully considered what their patients would live on and stand on during treatment at their new KF Equine Fitness and Rehab facility in Auxvasse, Mo.
A whole horse approach to advancing equine fitness and performance is the focus of the practice and the lens through which all equipment was evaluated.
Riding arena surfaces where horses spend an hour – or even just a few minutes when they're competing -- often get the lion share of attention. The surface where many horses spend most of their day is often an afterthought – and it shouldn't be.
Stall flooring surfaces affect horse health in many ways. It can be good or bad for rest and sleep and for hoof and joint health. It can even impact respiratory health because surfaces that require bedding for cushion usually add a considerable amount of breathable dust to horse habitats.
 KF Equine Fitness and Rehab just recently opened its doors for residential patients, but Dr. Kaleena Kuehler already saw the benefits of the ComfortStall Sealed Orthopedic Flooring installed in 8 stalls earlier this year.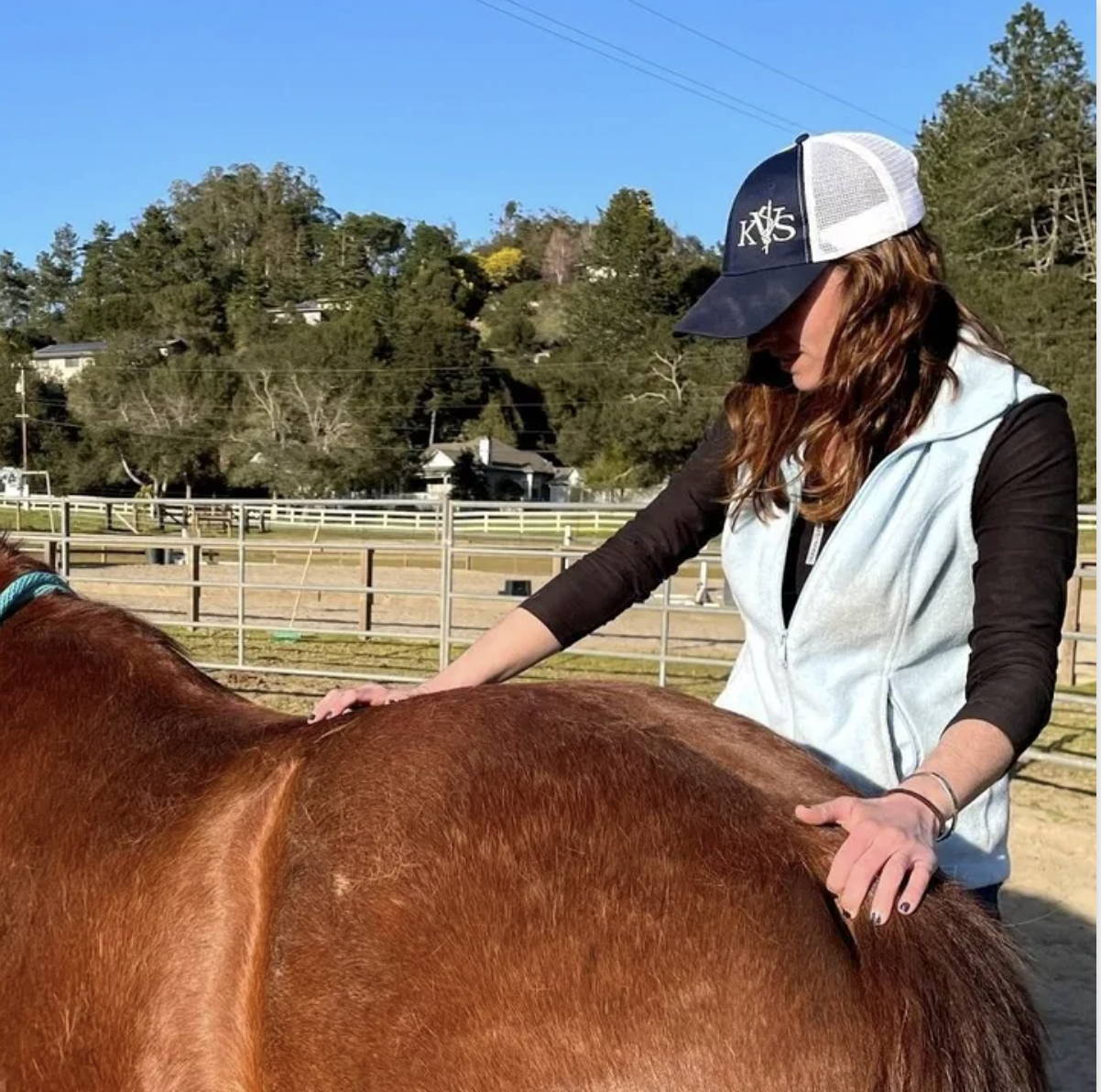 Before the new facility was ready for live-in patients, the ComfortStall spaces were used to treat visiting outpatients. Joint and hoof pain and limited range of motion are among the conditions that spur owners to bring their horse to Dr. Kuehler for help.
 "I really prefer this flooring and the horses seem to, also," says the veterinarian. "It's clear the horses are more comfortable on it, especially the foot-sore horses. And several of them fidget less while I'm working with them." Her equine patients aren't the only ones happy about what's under their feet. "A lot of our owners say how much more comfortable they are than when they held their horses while standing on concrete."
Along with her veterinary degree, Dr. Kuehler is certified in animal chiropractic (AVCA) and equine rehabilitation and performance. Since graduating from the University of Missouri College of Veterinary Medicine, she's blended traditional care and holistic approaches to improve performance and reduce discomfort. Chiropractic and therapies including cold laser, laser acupuncture, trigger point release, Tui Na, stretching and other exercises are among her tools for returning horses to optimal health and well-being.
She's grateful to her husband Dave, an engineer, for identifying ComfortStall as an option for their rehabilitation facility. "He knows that I'm all about things that are evidence-based," Dr. Kuehler shares. Cornell University Veterinary Hospital's role as a co-developer and long time user of ComfortStall caught Dave's attention early in the facility planning process. "We looked at a few other floorings, but none with the research ComfortStall has behind it."
One caveat about the flooring -- as a treatment surface, ComfortStall is not ideal for taking x-rays, the veterinarian points out. The built-in cushion and give for which the flooring is famous requires tiny muscle adjustments for the horse to stand on it. The effect is just enough to make x-ray images a bit blurry.
For everything else, however, that give and cushion are great for horse health. "Motion helps decrease inflammation," Dr. Kuehler explains. "The more the horse is shifting its weight a little bit, keeping their joints moving, the better it is for circulation within those joints." 
A corrective farrier with whom Dr. Kuehler works is excited to study how horses on ComfortStall adjust their hoof angle to bear their weight most comfortably. "He thinks that how he sees horses angle their hoof on this flooring will help him determine their ideal trim and shoeing." He expects the surface will let the horse present its preferences.
Letting horses find their own hoof balance is a purpose of stability pads used by many sport horse physios. "ComfortStall is almost like letting them stand on a stability pad all day," Dr. Kuehler says.
The orthopedic foam is covered by a single-piece, durable, non-latex top cover. It is sealed to the stall wall, preventing the seepage and accumulation of urine and other fluids at the subfloor. This drastically cuts down on harmful ammonia odours caused by urine accumulation. And, it means no lugging out of heavy stall mats for periodic cleaning.
ComfortStall's smooth surface can be easily cleaned and disinfected – a plus for veterinary facilities and any situation where disease spread is a concern.
As active horse owners and riders in their free time, the Kuehlers appreciate all of ComfortStall's benefits – for horses and humans.