Renowned Veterinarian and Researcher Dr. Hilary Clayton has High Praise for The Forager Slow Feeder
Well-known veterinarian, researcher, author and horse owner trials the latest addition to The Haygain Way and conveys high praise.
Dr. Hilary Clayton is a veterinarian, researcher, horse owner and dressage rider. The academic titles following her name -- BVMS, PhD, Dipl. ACVSMR and FRCVS -- represent a lifetime spent studying and forming actionable revelations on equine movement as it applies to sport horse welfare, conditioning and performance.
She walks her talk: Dr. Clayton and MSU Magic J recently completed their Dressage Foundation Century Ride, both performing with grace, athleticism and suppleness belying their combined 101 years.
Dr. Clayton is a highly respected author and speaker with a knack for synthesizing complicated biomechanical processes into information owners can use in pursuit of a healthy, positive partnerships with their horse. Dr. Clayton's response after a few weeks of using The Forager Slow Feeder by Haygain, however, was not complicated:
"I think it's a great product."
The 71cm tall, cylindrical Forager has a regulator grid that sits atop the nearly 12kg of hay that can be contained inside. The horse pulls small bites of hay through the grid, extending mealtimes to mimic the grazing pace for which the equine digestive system is designed. This results in more chewing, which generates more saliva that helps protect the stomach lining from naturally occurring acids that can cause ulcers.
The Forager also enables the horse to eat with its head in a natural, lowered position as they would in nature.
Suitability for safe stable use was Dr. Clayton's first concern. "I like that it's sturdy and made of horse-safe materials," she says.
Due to her horse's expertise as an eater, she started him off with the "Standard" regulator grid instead of the "Easy" grid from which it is slightly easier for horses to extract forage. Of her Lusitano partner, Donzi MC, Dr. Clayton explains: "My horse is already an expert in getting food out of slow feed nets, hay balls and treat balls. He had no issue learning how to use The Forager."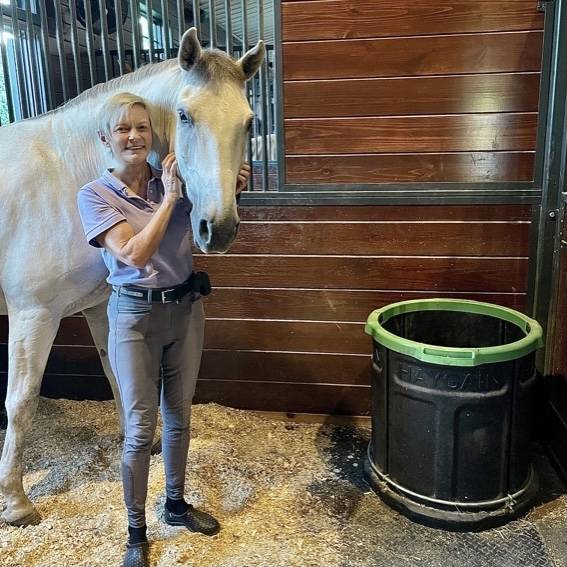 She observed that The Forager definitely seemed to slow her horse's consumption pace, but she could not quantify by how much because she currently uses it to feed hay overnight. In the winter, they relocate from Michigan to Florida, where Donzi won't have much access to pasture so he'll be using the Forager during the day. Dr. Clayton is confident it will help spread out the "rather meager meals" required to keep his weight under control.
The Forager can be secured to the stall walls or stabilized by pouring sand into its base. Dr. Clayton was relatively sure her horse would try to crib on the lip of the Forager, so she didn't put any sand in the unit. "After dragging it to the center of the stall the first two nights, he gave up trying to crib on it," she says.
Natural Head & Neck Position
Enabling horses to eat with a lowered head position is a significant Forager plus. "It definitely encourages a good head/neck position," Dr. Clayton points out. A study published in March of this year demonstrated the variations in neck and back shape for horses eating from the floor and from hay nets hung at heights above and below the withers.
Eating from the floor was the "control" position and had the least impact on the horse's neck and back shape. The study acknowledged that hay nets can slow eating, but with "potential negative effects on back and neck posture which can, in turn, negatively affect horse welfare." Because the horse's head and neck comprise 10% of the horse's body weight and are located a distance from its centre of gravity, the shape and interaction of the neck and back are critical to equine welfare.
Dressage training emphasizes the importance of teaching the horse to work with a rounded topline. Some of the tests include a "stretchy circle" in which the horse is encouraged to lower its neck and nose, stretching the back muscles and supporting a supple topline. Common sense suggests that more time spent in that elongated frame is good for the horse, whereas time spent with the head in an unnatural, raised position can have the opposite effect. The study noted the belief that environmental, management and working conditions can affect a horse's posture even more than age.
Conducted at the Department of Veterinary Sciences, University of Turin, the research is entitled Studying the Shape Variations of the Back, Neck and Mandibular Angle of Horses Depending on Specific Feeding Positions Using Geometric Morphometrics. It was published in the journal, Animals, and can be found here:
The study also found that the horse's mandibular (lower jaw) angle was widest and at is most natural when eating from the ground.
By containing the hay, the Forager prevents waste and contamination when forage gets mixed into bedding, manure and urine. For similar reasons, Dr. Clayton believes the Forager could also help prevent horses from ingesting sand when kept in sand paddocks.
"I haven't found any negatives yet," she said after a few weeks use at Donzi's Michigan stable. "It seemed a little bit tricky to put in the hay at first." The regulator grid is held in place by a unique external metal slider that prevents horses from bypassing or tipping the regulator. It does take a little getting used to. "The barn owner who fills it every night says it's no problem when you master the technique," Dr. Clayton confirms.
The Forager is advertised as a simple slow feeding solution and Dr. Clayton's feedback after using it is equally simple. "I like using the Forager!